I love that teacup you see in the picture there, and I'll tell you why as this blog progresses.
But I need to set the stage first.
Keep It Simple Stupid
In 2018 and 2019, I have been focusing on simplifying my business, the way I work and my life.
I've been intent on getting rid of the clutter – things, people, surroundings, and setting up environments where I can be in flow.
I started at the beginning of 2018 with my business. I used to operate an agency with around 10 full-time staff in a physical office – a great place in Singapore in what we call here a shophouse. Typically that's a three-story house that was built to operate as living accommodation in the upper stories and a shopfront on the ground level. Most have been converted to offices and you'd typically rent either the whole house or one or two of the floors. My office occupied the top two floors. It was a great place to work, great location but, from a business perspective, it was expensive for the amount of actual floor space you could use.
The Cloud made so much more possible
By this time, the Cloud was pretty well ensconced and I began to question the need for an office and staff onsite. The business world was changing. Cloud technology now made meetings possible on the Cloud, so we could hold the same briefing across the world if we had to. We didn't need to be face to face.
Coupled with that, we now had access to a global pool of creatives around the world we could hire for their time or for a fixed sum per project, depending on the agreement. With most of my fixed overheads being staff costs, this option was becoming more attractive.
So I started to make the moves.
Transitioning for simplicity
First, I moved office to a quirky shared office space where we still had our own office but only five desks I wanted operating as hot desks. This encouraged staff to work from home or to use the open spaces in the suites to sit and do their work. With natural staff attrition, I replaced the full-time staff who left with freelancers from around the world who could do the same work for me remotely, without the fixed overheads. I just needed to work their costs into the project costs to ensure I was covered. By mid-2018, all my writers and designers were based in Europe, the UK or Australia, and my admin saviour operated out of Bali.
I researched a bunch of productivity and project management software that would work to keep an online team together and finally opted for Monday to communicate tasks to the team anywhere in the world (or on their fixed platform if it had to be that way) and Simpleology for my own personal reminders. The Dreamcatcher in the latter is a powerful element that allows me to capture thoughts on the fly and forget about them instantly, so my mind is always worry free! At the end of each day, I simply have to sort through everything I'd entered throughout the day and schedule, do, delegate or trash each item as I set the list of things to do for the next day. I've gone from forgetting everything to not having to remember a thing!
A year later I gave up the office space and took a purely virtual package which would get the phones answered for me but everything else existed in the Cloud. I was now operating my business location free from a laptop.
People who give you energy
As I started to free my business to operate the way modern technology was enabling it to, I realised how the people around you either provide energy to you or suck it out of you. For too many years I had put up with the latter. But as I started to seek out people who resonated with my frequency, magic happened. I automatically began to feel less stress, I found a love for what I do once again and began to free up the time to start MarketSmart – a passion project I'd kept on the back burner for two years. In my regular business, I was starting to attract big projects that were interesting to do and people who were a pleasure to work with. I learnt that what you accept signals to people how to treat you, so I changed my signals. With no staff to "feed", I could pick and choose the projects I took on and that was a freeing feeling.
The little things don't matter, but yet they do
In the larger scheme of things, there's no point sweating the small stuff, or worrying about things you can't change. But in other ways, it's the little things that can make all the difference. Here's where that teacup comes in.
I was biding some time yesterday in a shopping centre between two meetings when I chanced upon a display of stationery and notebooks. These are like magnets to me.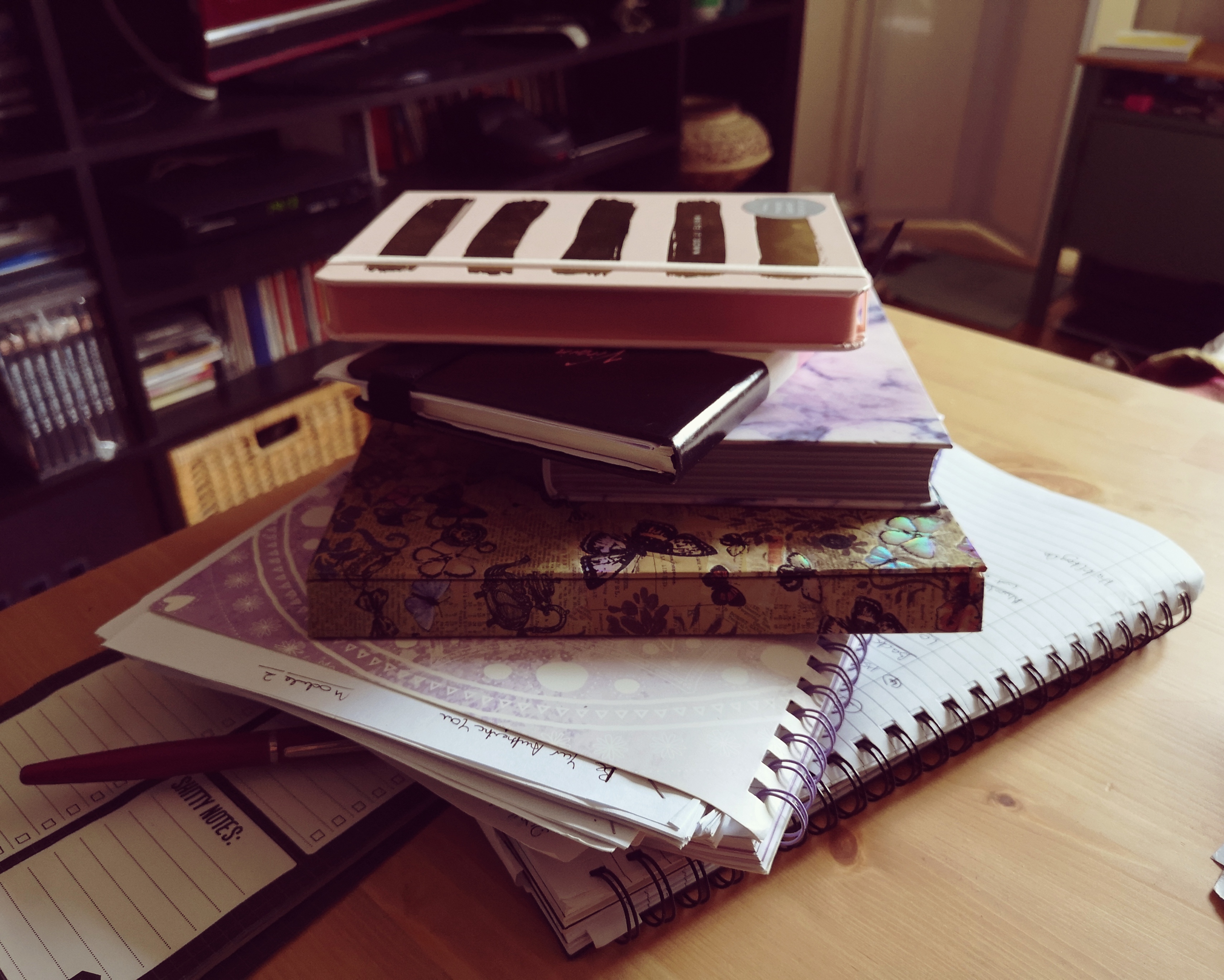 There's nothing as pleasing as a blank page to be written on!
I was immediately drawn in and as I started to browse I knew I wasn't leaving empty-handed. Among the stationery was a range of teacups, saucers and milk jugs in bone china with gold leaf designs. I fell in love. The teacup you see is part of a set and will now be a permanent fixture on my work desk and will be topped up with contents of the teapot and milk jug as needed. How English!
But my point is, I want to surround myself with those little things that make the difference to my mood. It makes ALL the difference to the creative process. And it keeps me at my desk so I can get the work done I need to.
Be kind to yourself!